Yes, it was a very good day. Despite waking up with world's worst migraine and staying in bed most of the morning.  Why?  Because today I mosied my way down to a Sports Medicine Clinic called Inside Sports Clinic.
My head was throbbing, but I did not want to put this off.  I met with Dr. Phillips, who right off the cuff I could tell was going to be awesome.  This clinic is use to treating all kinds of sport related injuries, and took me seriously.  
We talked a lot about biomechanics of running, and how most likely since my knee pain can't be diagnosed the problem is probably in my feet.  We did some functional tests, and guess what they revealed?
My left foot is TOTALLY different from my right.  He showed me that when I stand up, my left arch totally collapses.  He also showed me based on my strike patterns where the imbalances are.  So I am getting custom orthotics for my shoes and I am REALLY excited about this.  He said he wasn't quite sure how I was able to get through so many marathons.
My treatment today was STEM therapy and this futurist ice-compression machine, and I left with my knee taped up for comfort.   The best part, he said: : "We will fix this."  
That's all I need....and I think I am going to be running sooner than anticipated!
I treated myself to a nice luncharoo with the spouse at Panera.  For the record, I totally endorse the turkey-artichoke panini.  So good!!
...and five minutes later.
This is the look I get when I ask for a bite.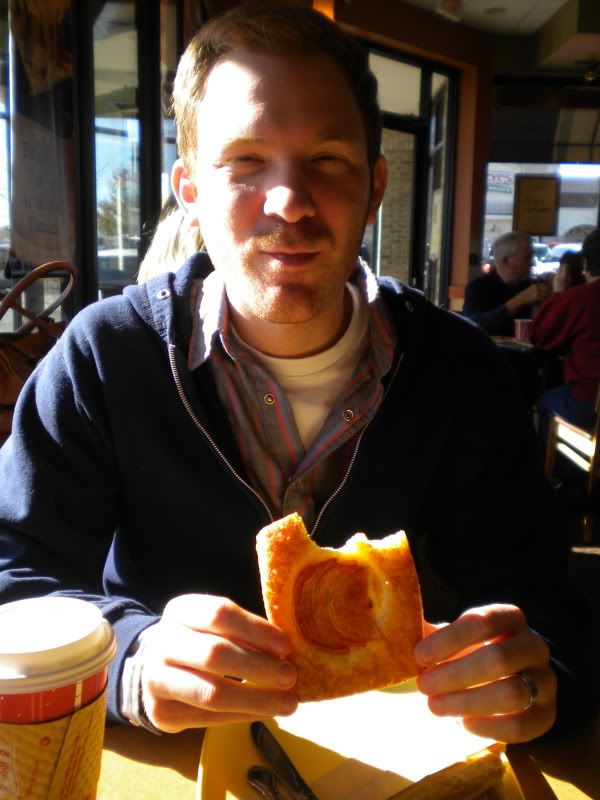 How do you 'treat' yourself?
What is your favorite pastry?
What do you have planned this weekend?